Though Sakura has been on 14th St. for years, I'd never visited until my friend and U.Va alum Katie suggested the place for lunch when she came to town for the Lady Gaga concert earlier this month.
Sakura's miso soup was pretty run-of-the-mill, but the California rolls, which accompany each entree when ordered in a bento box, are worth the walk up the Corner. The avocado is creamy and the the rice nicely seasoned with vinegar and sugar. The teriyaki chicken, however, tasted too much of soy sauce than any other ingredient and was tough to chew and cut. The salad of bland, inferior cuts of iceberg lettuce in the bento box, though, isn't much better; it should've gone straight to the wastebasket.
Naturally, this recent excursion to Sakura draws many comparisons to its competitor on Elliewood Ave.: Sushi Love. For one thing, Sakura's avocavdos are fresh and never brown (I've found that the avocado at Sushi Love has been brown on several occasions). It's salad, however, is far inferior to the neat layering of ruffled romain lettuce and miso salad dressing served at Sushi Love. And though Sushi Love's sushi rolls are neat and more visually appetizing, Sakura's rolls taste better and are delivered to tables within a more reasonable time period.
Though I still prefer Sushi Love, Sakura is worthy of another visit just for the California rolls. (Just don't plan on touching any of that iceberg lettuce.)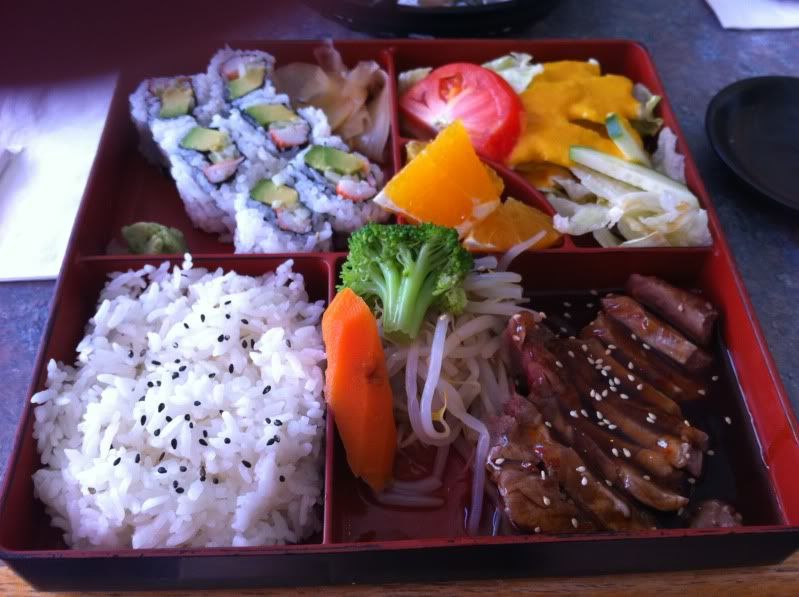 Chicken teriyaki bento box at Sakura
(Originally posted Sept. 25, 2010)