Bang! presents itself as a modern, Asian-fusion, tapas-style restaurant in downtown Charlottesville — just one block from the Downtown Mall. Its menu is relatively concise, but still offers appealing variety.
The kitchen is skilled in its preparation of seafood, but much less adept in its handling of the land-grazing counterparts on the menu. The Firecracker Shrimp, for example, was a knockout with its tasty creamy garlic sauce that dressed the shrimp and accompanying bed of cabbage and carrot slaw. The slaw added both crunch and freshness to the fried shrimp dish — easily the best of the night. The mussels in another dish swam in a zesty lemony sauce, interestingly, on a bed of angel hair vermicelli noodles that were not quite the right medium to carry the citrusy sauce. The Crab Pot Stickers were another winning dish, arriving as a trio of wonton skins that enveloped the tasty crab meat. As with the first dish, the main show stoppers sat on yet another tasty bed of shredded vegetables to mop up the sweet gingery sauce.
Yet Bang! falls flat with its noodles. The fine vermicelli noodles under the mussels were uninspiring, as was the Thai Beef, Bok Choy soba noodles that arrived at our table in monocromatic taupe with hardly a sliver of bok choy. There was no variety of texture or flavor to enliven the otherwise mushy dish that needed either a spicy kick or a more substantial sauce. Another noodle dish that left something to be desired was the Chicken Curry, which lacked sufficient spice and depth of flavor to warrant the name 'curry.' The chicken chunks were uninteresting, but even more so were the thin noodles that interwove the chicken chunks.
What Bang! fails in flavor it makes up for in ambiance. The restaurant is set up in something that more resembles a home than a restaurant, but the sound level was at a comfortable level for a Saturday night — or any night. There are also sleek, high-back booths available, each with a soft candle light in small tabletop lanterns that add charm to the modern setting.
But don't come hungry — The food was good, but not so for the price: each dish costs 8-11 and is about the size of an appetizer.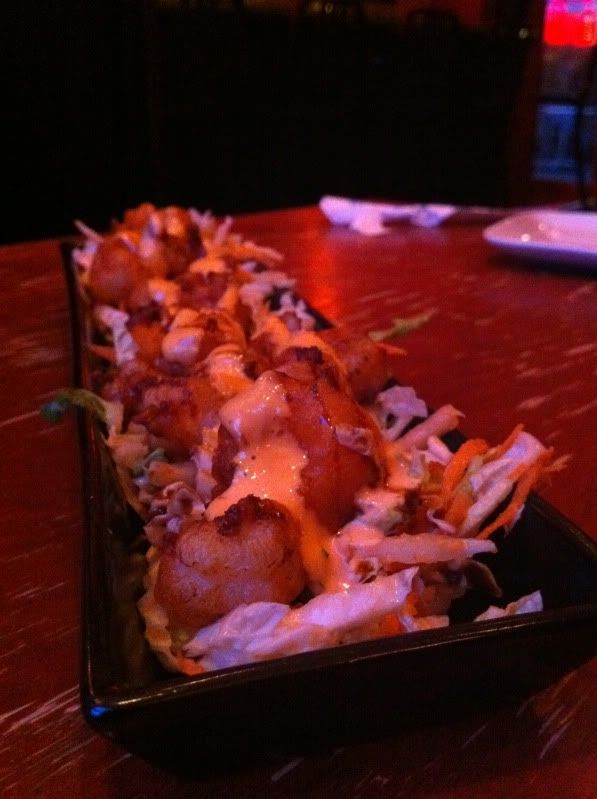 (Originally posted Oct. 2, 2011)