The three-month old New York-style bakery and deli on West Main St. in Charlottesville's Starr Hill distict claims to offer "gourmet fine foods" and catering, but both the food and ambience fail to deliver.
Having inherited my mother's sweet tooth, I was eagerly drawn to the bakery display case and tried the baklava and raspberry linzer cookie, but was surprised to find that I was the only patron in the bakery at a peak lunch hour. Unfortunately, this foreboded an unfortunate eating experience to come. First, the raspberry linzer cookie was an utter disappointment. The raspberry filling was tastelessly gummy and artificial, and did not even hint of its main ingredient (or any natural ingredients for that matter). Still more disappointing was cookie itself, which was probably made more than 48 hours before and was inferior even to store-bought, grocery store brand cookies. The baklava, on the other hand, was the sole savior of the Penne Lane experience; it was as delicious as it is photogenic. The honey nut filling was satisfying, but not at all gummy or heavy, and presented a tasty contrast to the flaky phyllo crust.
Unlike the baklava, The ambience in the bakery was severely lacking. Five tall, metal tables and chairs dotted the eating area, and were accompanied by a benchtop that faces out into the street — great for people watching. However, the arrangement of the store is disappointingly unimaginative and lacks character. Even the music was ill-suited (perhaps Top 40 hits do not offer the most appropriate sound for a bakery/deli establishment that seeks to evoke cosmopolitan NYC).
In summary, the current state of the bakery does not warrant a second visit, for there are far more superior deli/bakery establishments in the vicinity. Also, that the current proprietors previously owned a Penne Lane in Long Island for 15 years is surprising because the bakery/deli does not offer any hints at previous business experience. Before this business can thrive, it needs to aquire a definitive focus that caters to its target audience, and update its underwhelming interior.
Stay tuned for a review on the Albemarle Baking Co. tomorrow.
UPDATE: Penne Lane is now closed.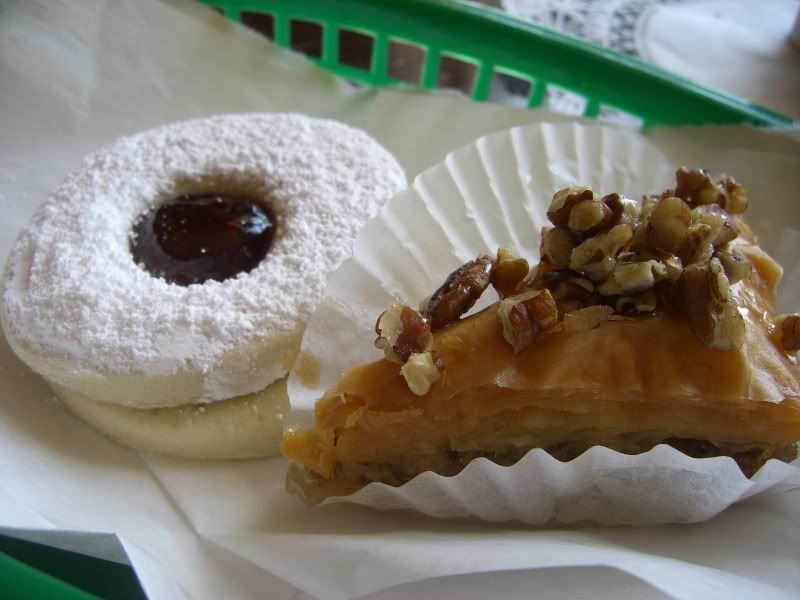 A raspberry linzer cookie and baklava triangle at Penne Lane
(Originally posted July 31, 2010)