I met Hallie Colegrove back in 6th grade chorus class in 2001. Then we were in the same shop class the following year, but our friendship really solidified in the 8th grade when we were both "Algeburros" in E block Algebra with Mr. Erler. Despite all the drama that inevitably pervades the high school experience, we remained friends throughout high school and even had the same lunch period one year. We always went to homecoming and prom in the same group — a tradition that began with the 8th grade dance in 2004 — with what were then, "The Rasians."
Even though we go to colleges 4 hours apart, we've managed to strengthen our friendship through letterwriting via snail mail and Gchat/AIM. Since we've moved away from home, we've noticed more and more the striking parallels between our lives: We're both the middle child between an older sister and younger brother, and we're both very much like Elinor in Jane Austen's
Sense & Sensibility
(there are many other similarities, but too many enumerate). My sister was also a long-term substitute teacher in one of her brother's middle school classes, my sister and her brother share a birthday, and both our little brothers are in the same chemistry class — just as Hallie and I were sophomore year — with a teacher that both Hallie and I had senior year for IB Environmental Systems.
Hallie and I have decided to use our tumblr accounts to chronicle our lives away from home, family, and friends in Northern Virginia. Check out her blog @
http://halliecolegrove.tumblr.com/
.
Cheers to 8 years of friendship and hopefully many more to come!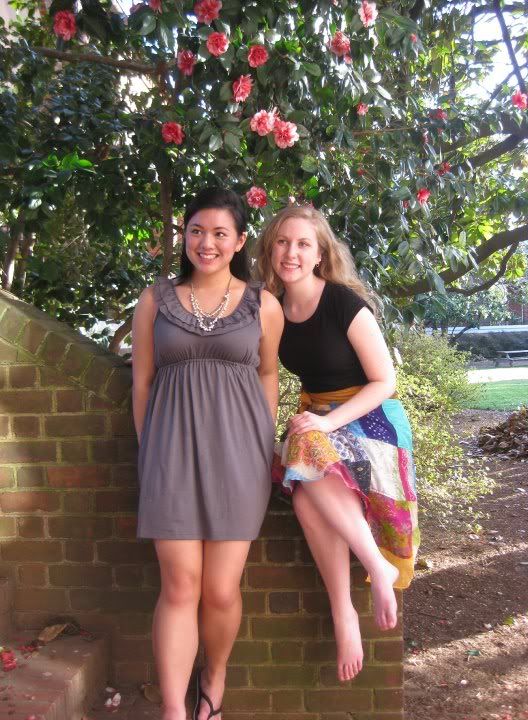 (Originally posted June 2, 2010)