My favorite restaurant is Rabieng in Falls Church (the Thai restaurant near Duangrats and what used to be Fortune, then Maxim Palace, and finally Lucky Three), but other Thai restaurants I've tried always pale in comparison. The charming ambience, adeptly spiced dishes and glossy noodles are tough to beat.
For some reason or other, I always order the drunken noodle when I go to a new Thai restaurant, but the spicy noodle dish has been largely disappointing at the more notable Thai venues within the vicinity of U.Va, such as Lemongrass on the Corner or Thai 99 on JPA.
But then I found Lime Leaf.
Tucked in the Rio Hill Shopping Center behind IHOP on Rt. 29 and beside the "American General" store, the eatery with the nondescript exterior is well worth the trip off Grounds. Granted, I can only vouch for the chicken drunken noodle (YUM!), which found that tricky balance of sweet and spicy while maintaining a depth of flavor, but which could've used a few more basil leaves. In any case, if you like your Thai food spicy, diners are given a choice of 3 spice levels (one, two or three chili peppers), but you can also kick it up another notch with a sprinkle from the spice tray.
Additionally, there's even an entire line of vegetarian entrees, but diners can also swap meat in any of the other dishes for tofu. Taskeen, for instance, got the Kapao fried rice with tofu and even suggested Lime Leaf as the venue of the next PAFN E-Board bonding adventure.
I can't wait.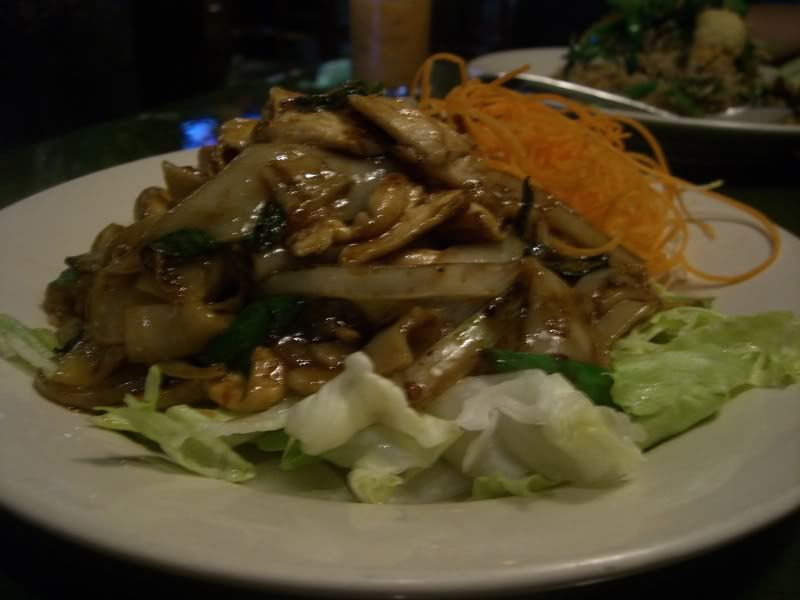 My drunken noodle dish which, though not particularly photogenic, deserves better company than a bed of flimsy iceburg lettuce leaves and a carrot tumbleweed.
(Originally posted June 14, 2010)