Located in the Main Street Market on 418 West Main St., this bakery prides itself on its bread and pastries, but the cakes steal the show.
The Harvest Basket on the morning pastry menu is a bundle of buttery, nutty, goodness. It's essentially a rough croissant with dried cherries and pieces of nuts scattered throughout the folds, but makes for a good pairing with coffee for a pick-me-up in the morning and alternative to scones or muffins.
The fruit tart, on the other hand, isn't worthy of its superior company. The tart presents itself with a basic buttery crust layered first with uninspiring jelly and then with blueberries, blackberries, and glossy strawberries made iridescent with specks of table sugar. Personally, I much prefer the fruit tart at Hot Cakes at Barrack's, but I'll save that for a future review.
The Princess Cake, meanwhile, forms a neat, domed package with vanilla sponge cake layered with bavarian cream and wrapped with a thin sheet of marzipan. Without a doubt, cakes are the bakery's strength, but the Chocolate Praline Crunch cake triumphs above all. The treat manages to be a triple chocolate dessert without being too rich or sugary, owing to the adept use of dark chocolate and varying textures. The smooth dark chocolate ganache presents an interesting contrast to the airy dark chocolate mousse beneath, which sits atop a thin layer of praline covering a thin disc of chocolate sponge cake. Pure, chocolatey decadence that even pleases those who prefer other desserts to cake (myself included). The Princess Cake is available by the slice daily, but the bakery also offers a miniature domed version of the Chocolate Praline Crunch cake, though full size versions of both confections are available for purchase as well.
Furthermore, the ambience is quaint and simplistically elegant. The bakery houses a handsome display case showcasing the baked treasures, and many square tables comprise the eating area, each accented with a tiny glass vase holding three flowers held by young, tender stems. Also, the customer service is fast, efficient, and amiable; the staff seems knowledgeable and cheery, though not overly officious.
Needless to say, Albemarle Baking Co. is the best bakery in Charlottesville — easily topping
Penne Lane
, but only slightly ahead of Hotcakes (stay tuned for a review of Hotcakes within the coming days).
Fortunately for those closer to Grounds, Para Coffee on Elliewood Ave. also serves up various baked goods from Albemarle Baking Co., including its Harvest Basket and various cookies.
(And just in case you were wondering, this review comes after four separate visits to Albemarle Baking Co.)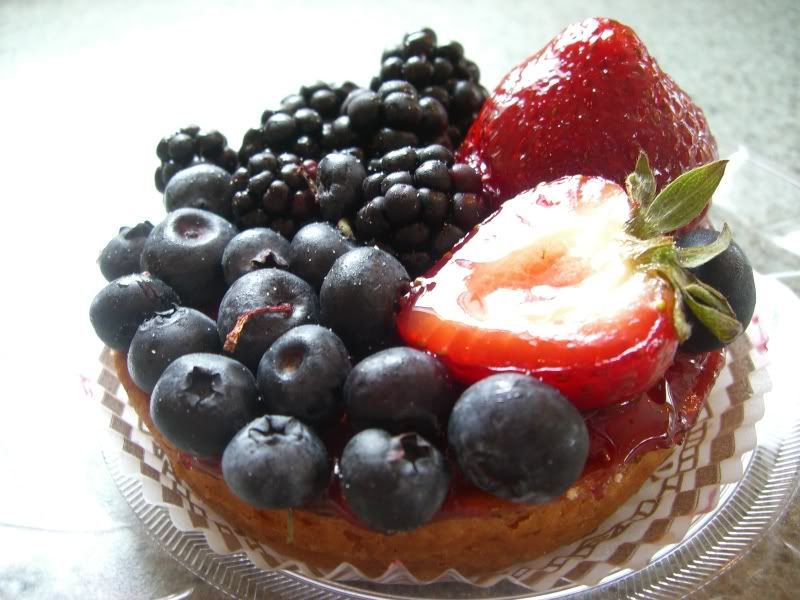 The fruit tart at Albemarle Baking Co.
(Originally posted Aug. 1, 2010)