This relatively new addition to the Downtown Charlottesville area (next to Random Row Books) doesn't pretend to be an upscale cupcakery. Rather, there's a quaint feel about the tiny bakery and candy shop, decorated with a candy-bejeweled chandelier that serves as the backdrop behind the counter.
Instead of displaying cute, colorful cupcakes in their shining glory at eye level, SweetHaus opts for a more humble display just below the front counter. If you don't see a cupcake you'd been salivating after in the glass case, ask the young lady behind the counter because many cupcakes are made in small batches and frosted to order to ensure freshness. And if you're watching your waistline, try one of the adorable mini cupcakes topped with a generous dollup of frosting.
Although I'm not a huge appreciator of coconut, the coconut cupcake is easily the showstopper; it is moist, flavorful, and arrives in a bright art-deco cupcake cup. And the red velvet cupcake easily catapults it to among the best in Charlottesville; the only offputting aspect is the color, which runs brown rather than the namesake red. Still, the cupcakes are consistently moist and the frosting fluffy.
Even though this bakery has a few (relatively trivial) kinks to sort out (to-go cupcake boxes and a proper cupcake display), SweetHaus has everything
its Downtown competitor
lacks: excellent, attentive customer service, plenty of in-house seating, and consistently delicious offerings. Come swing by to try the best cupcakes in Downtown Charlottesville.
Cost: $2.50 for regular-sized cupcakes and $1 for the minis.
http://www.sweethaus.com/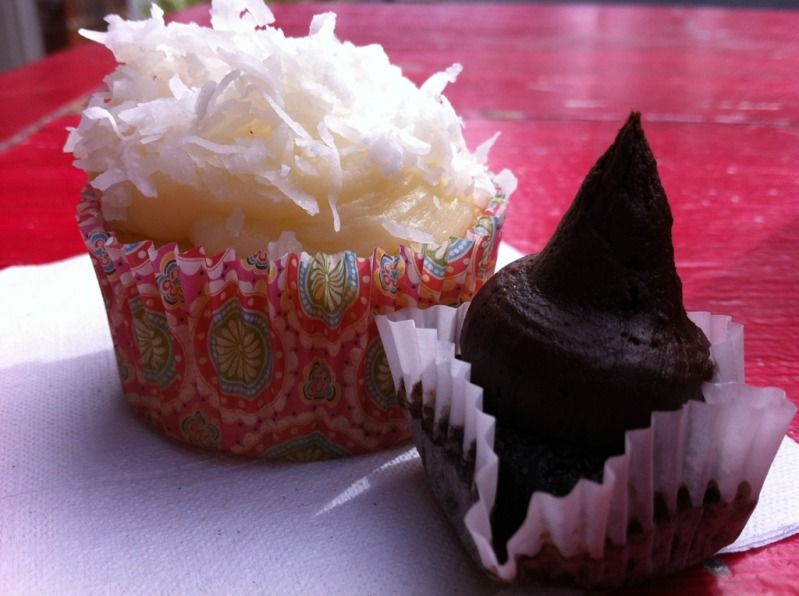 Coconut cupcake and a mini chocolate cupcake